Spencer Stirling
On through Flagstaff and into the Grand Canyon we drove. I couldn't believe the hordes or tourists that swarm the place! I guess that I'm used to the winter time around these parts. That's ANOTHER reason to visit in the winter - practically no other tourists. No heat. No problem. That is, if you can suffer the cold.
We first drove along the rim to look at the usual tourist overlooks. Since it was early, there was an very interesting mist remaining in the canyon. My words about the glory of this place would only be wasted...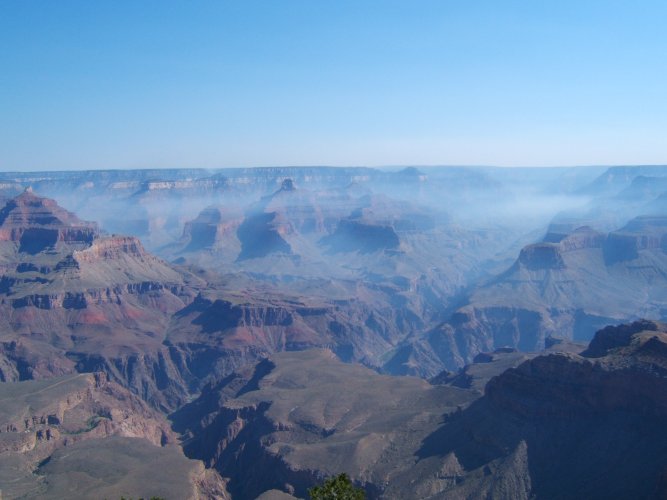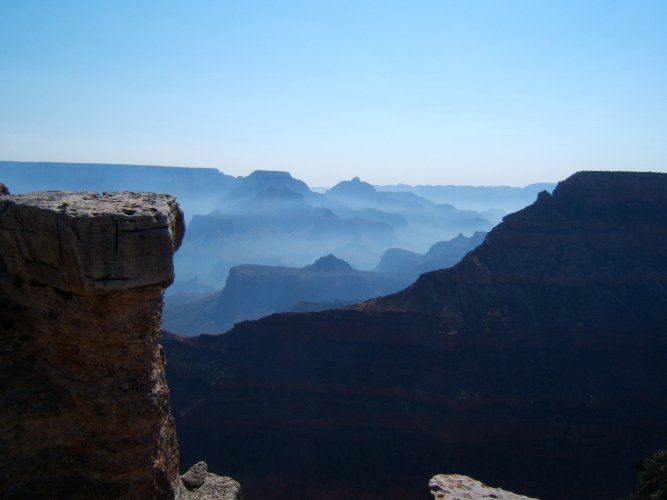 On to our hiking destination we drove - straight to the Hermit Rapids trailhead. Astrid and I have backpacked Bright Angel before, so we weren't expecting such a long and difficult trail. The sun was a cruel taskmaster - with 50 degree swings between daytime and nighttime temperatures, the desert is no place to mess around.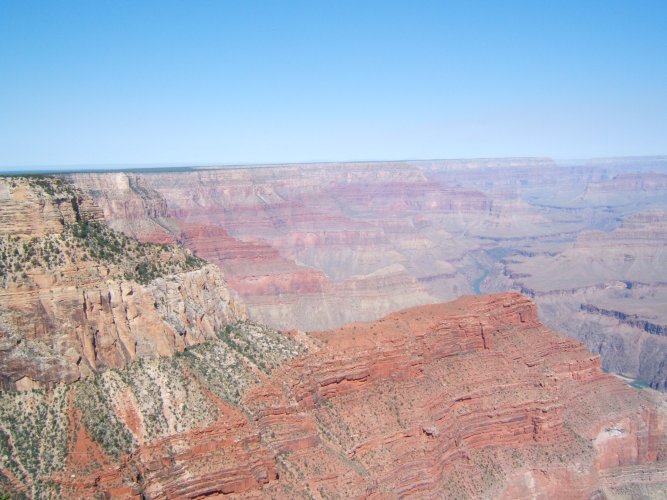 Look at how enthusiastic we appear before the hike. We were getting a late start - about 10:00 am. It only took several hours to get down Bright Angel before, so we figured that we would be fine. We were wrong.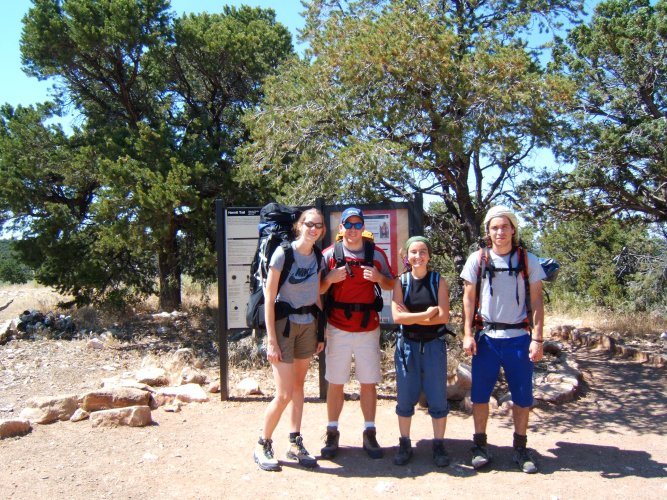 As we descended the temperature rose to a cruel 107 degrees on the Tonto Plain (a "tier" about 2/3 down the canyon). There was no shade - no protection. Both Astrid and Laura were grinding to a halt. We had plenty of water, but even that couldn't stop the heat stroke from setting in.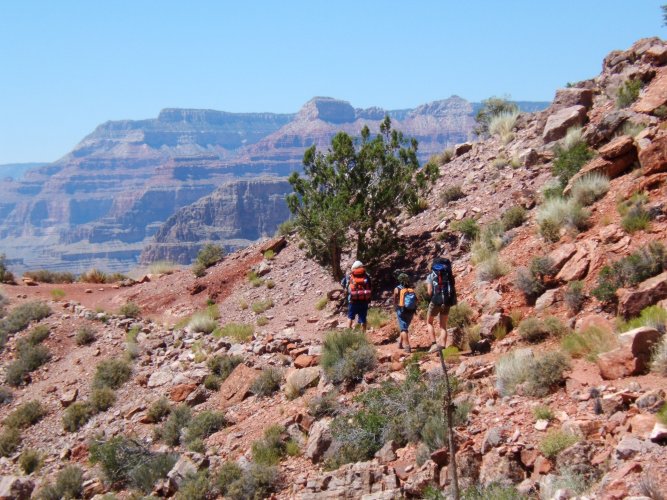 The women began acting strangely, and stopping every 50 yards or so under whatever pathetic tree we could find. I was becoming quite worried.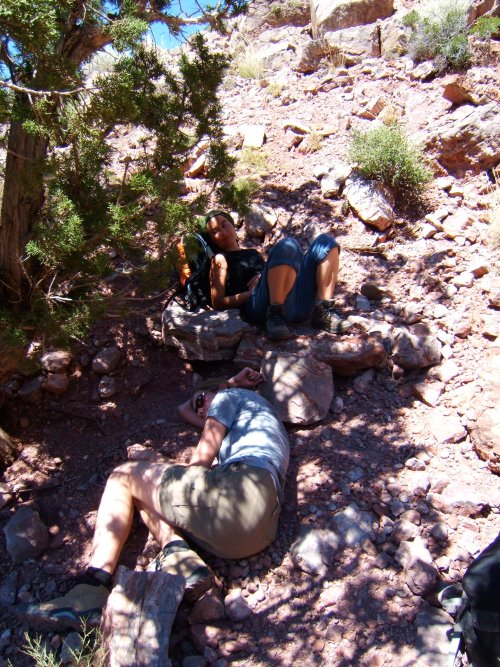 Through the worst part I took Astrid's pack. I don't think that she would have made it otherwise. For some reason the heat doesn't seem to bother me as much, so I was fine (except for the 100lbs worth of gear).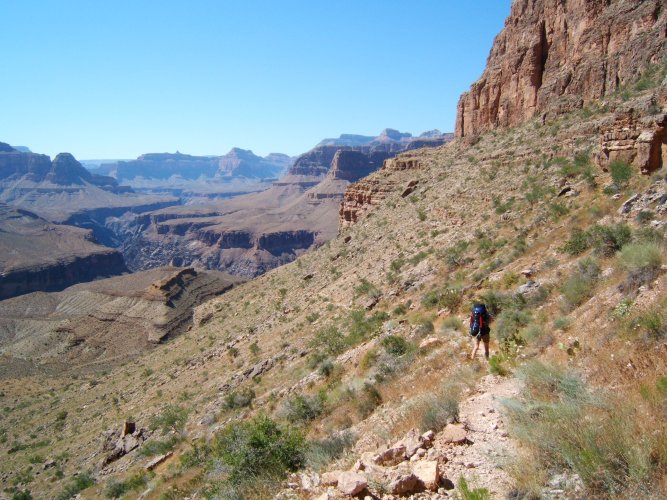 Two miles or so down we could see where the canyon closed in again, offering shade and cool water to refresh ourselves. Astrid took off for it, never looking back. I followed, but as soon as I made it to shade I noticed that Laura and Danny were not in sight. I ditched the heavy packs and grabbed the water, only to hike back up for an hour or so and find them in bad shape. Laura was down, and she wouldn't drink water. She was delirious. I think that she puked. Danny was fine, but he couldn't carry her. Since she wasn't going to listen to me, I told Danny to force her to drink water.
I don't know why, but the story is always the same. Every time I hike with somebody to the desert, they give me a long sob-story about why THEY are special and they just don't need much water. Europeans do this especially (probably because you can't even get water in the restaurants there without paying... but that's another tirade for a different day!). I try to insist, but most people just don't listen. They drink only every hour or so when they stop. I sip on water almost constantly. I feel fine after 6 hours of hiking, they feel like puking (and still refuse to drink water). Let this be a lesson - the desert is a killer to those who don't respect it - even on heavily-travelled trails in the Grand Canyon. I don't care if you are an athlete - keep drinking that water!!!
We finally made it to the bottom. I wasn't very happy with the poor judgment exercised by others, and I let them know it. I guess I wasn't the most pleasant person to be around that night, but overall I hiked over 3 hours EXTRA to find and help others (I forgot to mention that Astrid went off for an hour by herself when she reached the bottom - forcing me to go looking for her. I was a very pissed off guy at that point).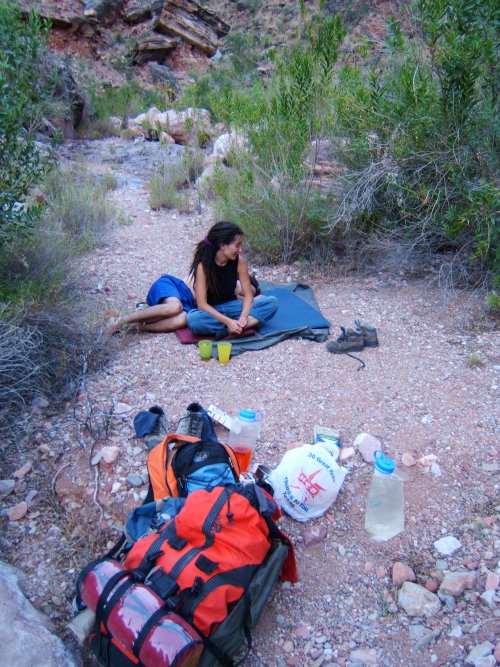 Not wanting to risk the heat again, Astrid and I woke up at 2:30 in the morning to begin hiking out. We hadn't slept much, but nevertheless the stars were INCREDIBLE down there. Laura and Danny didn't want to come. I'm not a nursemaid, so I decided to go without them. Everybody must be an adult and take care of himself/herself. I figured that they'd be OK as long as Danny would take Laura's pack.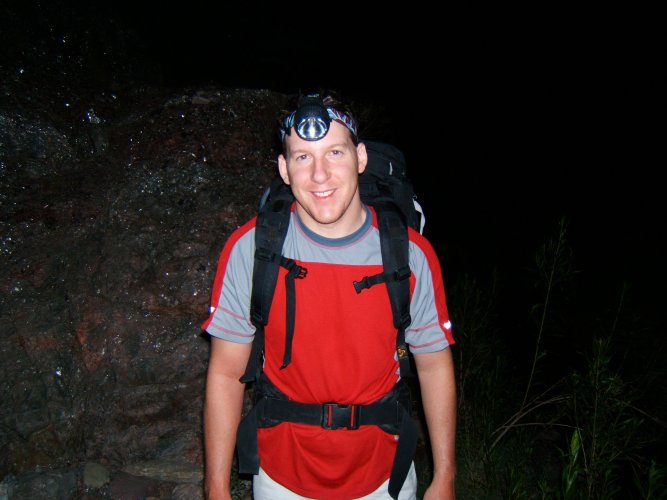 Here is a view on the Tonto Plain at 5:00 in the morning. It was really PRETTY at that time. There wasn't warning of the furnace that is this place in the afternoon.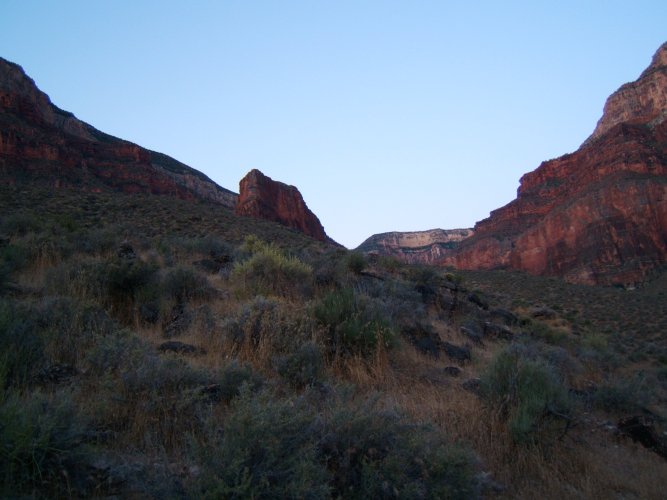 Sunrise was worth every ounce of pain and fatigue.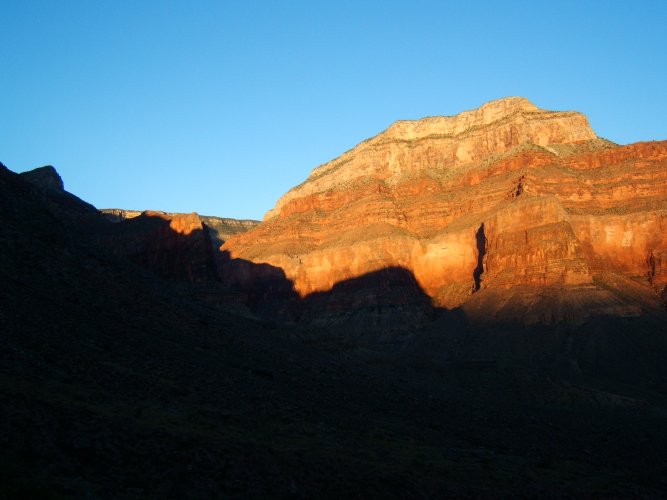 The mist in the morning reappeared. This time we enjoyed it for several hours while hiking out.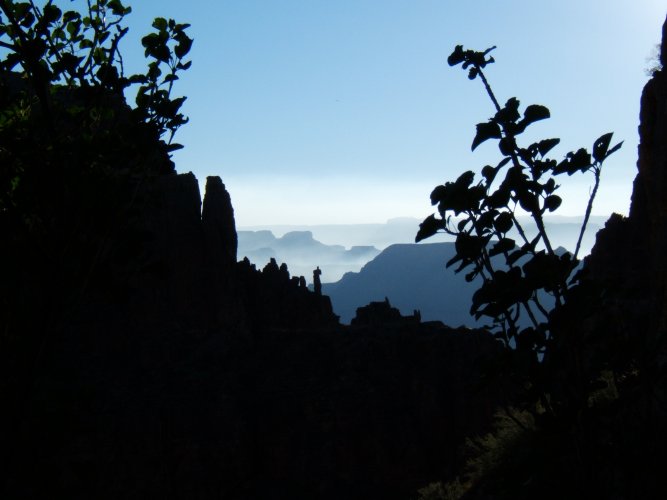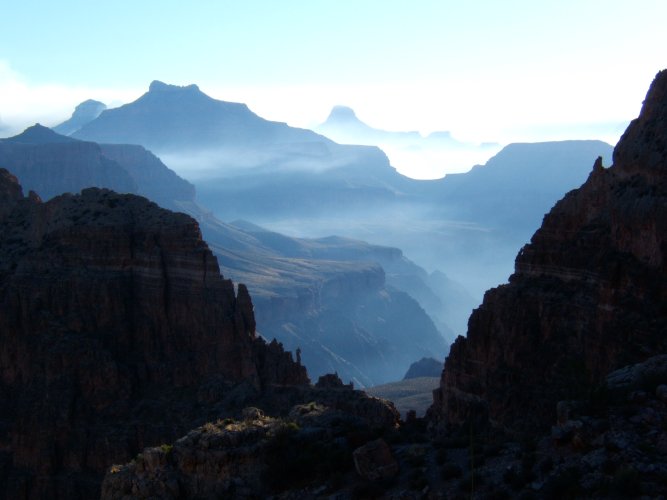 By mid-morning the heat and steep grade started to slow Astrid again. I could tell that she wouldn't make it with that load, so I took the pack again. We had a full supply of water - 100 lbs. worth of stuff. I pretty much had to hunch over and let it press into my back rather than my shoulders.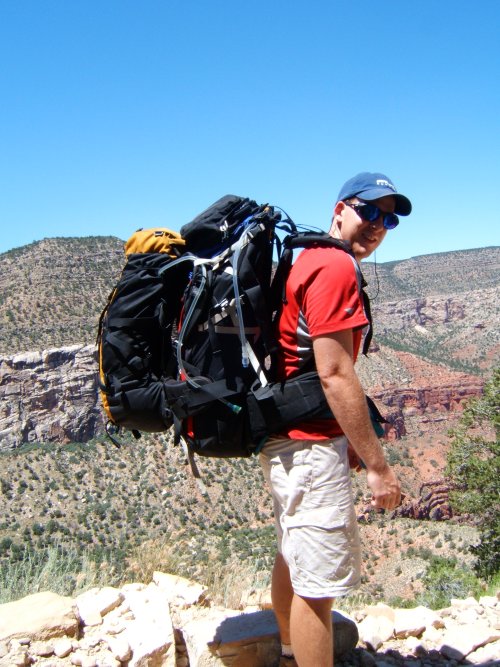 We suffered the heat, steep grade, and heavy load, but I managed to make it out first at about noon. Astrid followed by about a half hour, and the others came to the parking lot several hours later. I realize that this wasn't a fast ascent, but I don't care. We earned it - every step.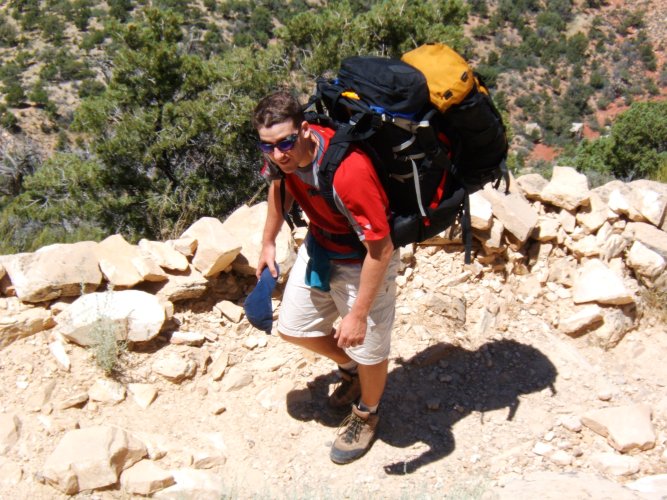 Listen to this Ennio Morricone tune to correctly dramatize this feat of strength.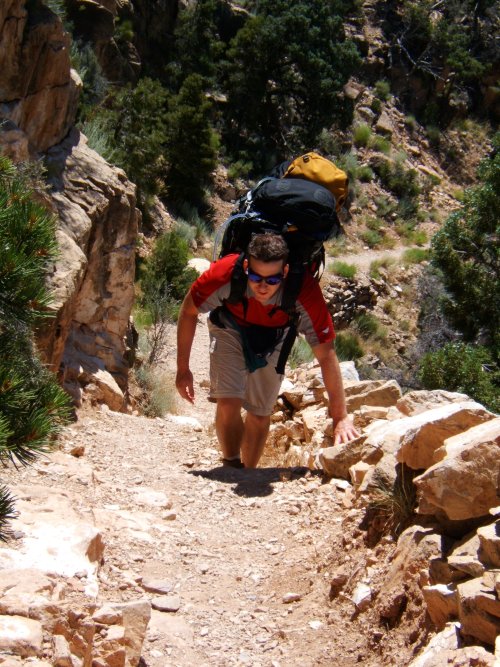 This page has been visited times since August 10, 2005