Spencer Stirling
After the punishment of the Grand Canyon, nobody was in the mood to do any more long hikes for a while. We pushed up through Southern Utah, just taking short 2-3 hour hikes. I've been in the region a million times, and I'll go a million more!
Bryce Canyon was actually BUSY!!!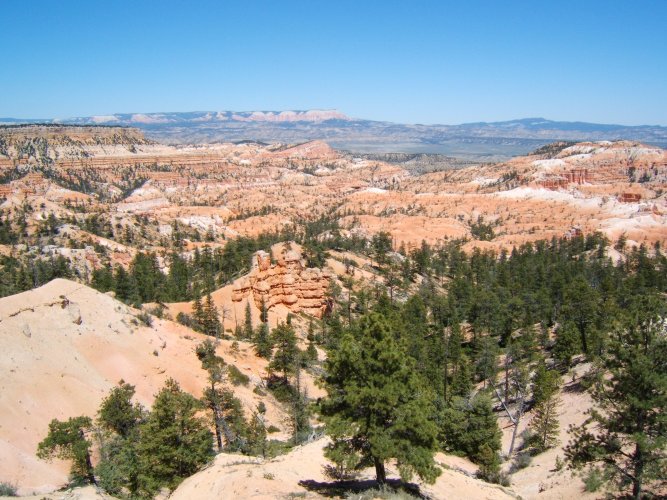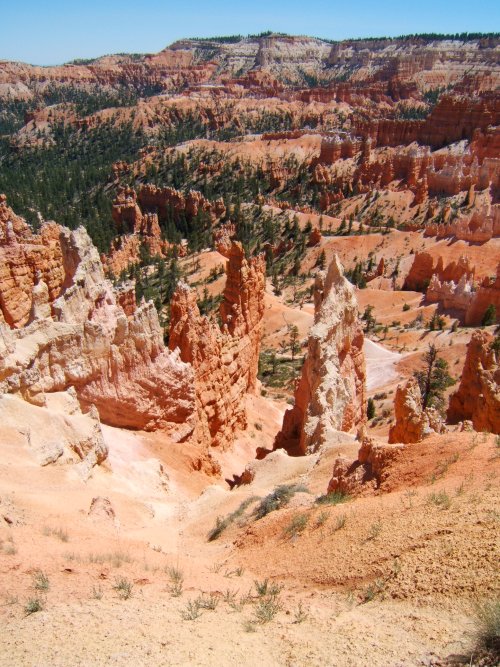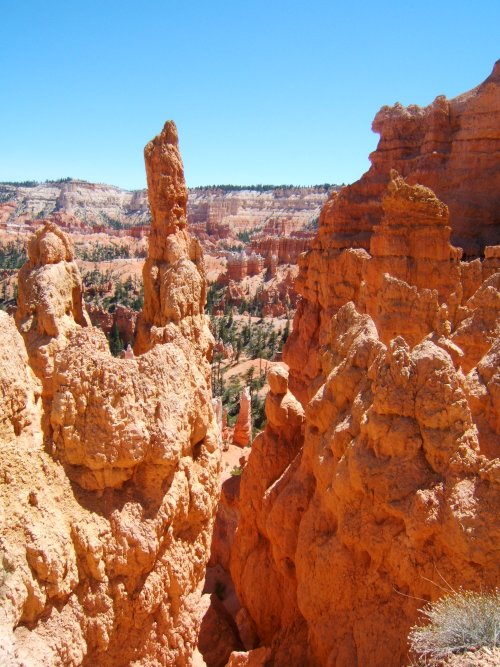 We took a short walk down Queen's Garden. I thought it was very beautiful.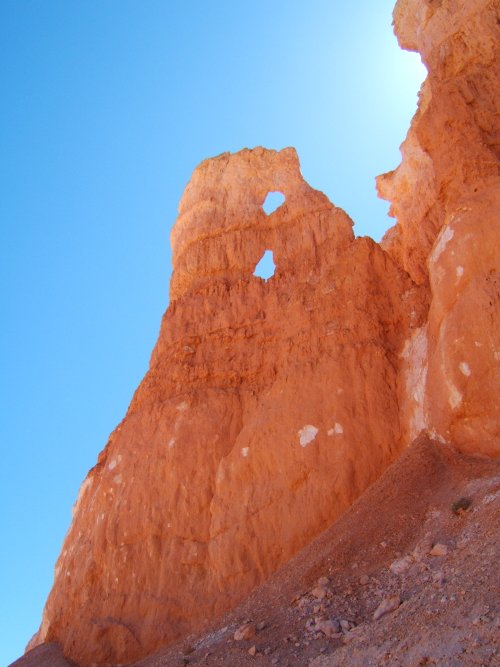 If you've never heard the story, then take notice! Ponderosa pines have a very sweet smell. Their sap smells like vanilla on some days, butterscotch on others! My mom is obsessed with pointing that out every time we go down.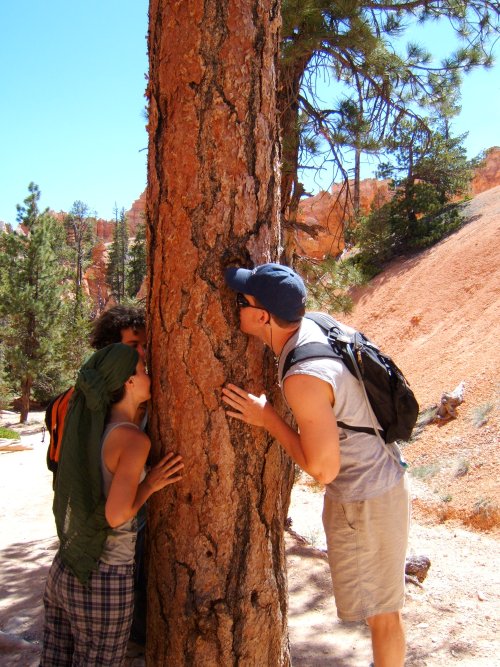 We walked into this place with trees wedged between the "hoodoos", but the trail was blocked from further progress.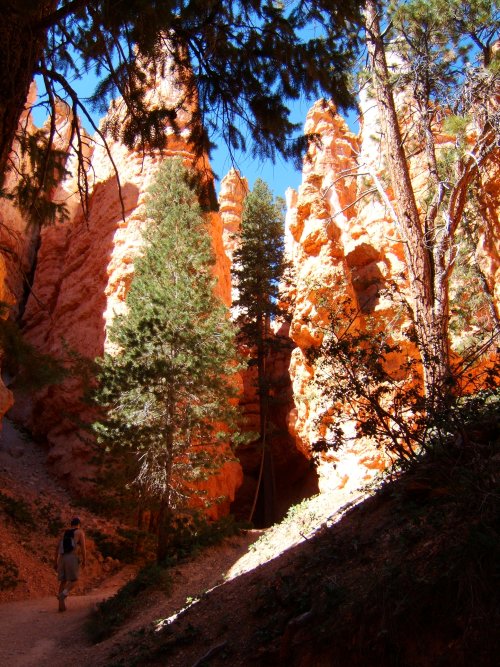 At the risk of being inappropriate, we noticed that one young lady who was walking nearby had an enormous camel-toe! Not realizing that she should probably attempt to find some clothes that actually fit, I went on a clandestine mission to photograph the phenomenon. I had such DREAMS of posting the picture on this website, only to crack some witty remark such as "we noticed the local fauna". Alas, she was elusive. Let me say it for you - I'm a vulgar man. I must say that I wasn't alone in this observation.
Bonsai!!!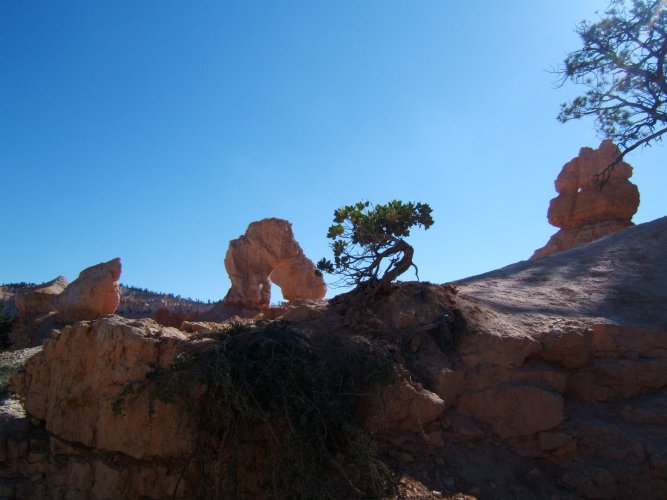 We just had to show Laura and Danny the Peekaboo and Spooky slot canyons (already shown in a previous vacation - check it out). This is the trail leading to them. Again, the landscape is truly cruel. In to the Grand Staircase-Escalante we go!!!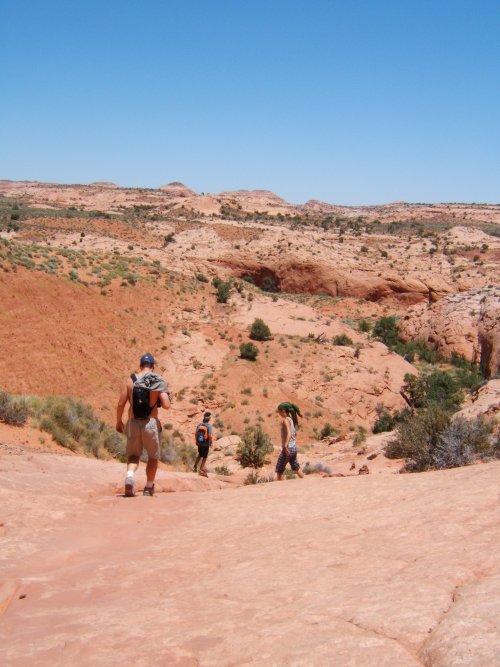 Here Danny enjoys Peekaboo as much as I did.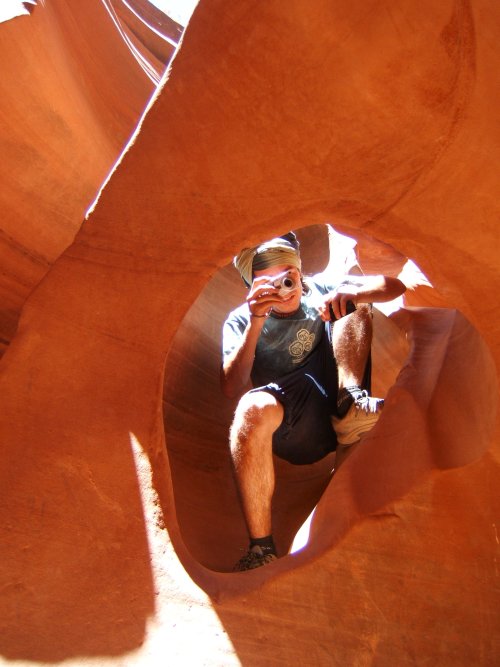 On the way out (the dirt road is quite long... 40 miles I think to the slot canyons) we decided to look at some formations called Devil's Garden. We have seen them before, but I had no pictures, so this was the perfect opportunity. These formations are EXTREMELY delicate. Very soft sandstone. If you go there then please don't deface the rocks as some do. This rock just crumbles away.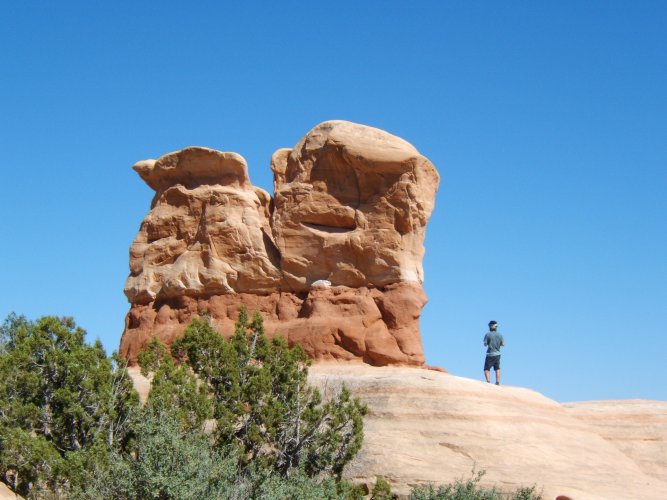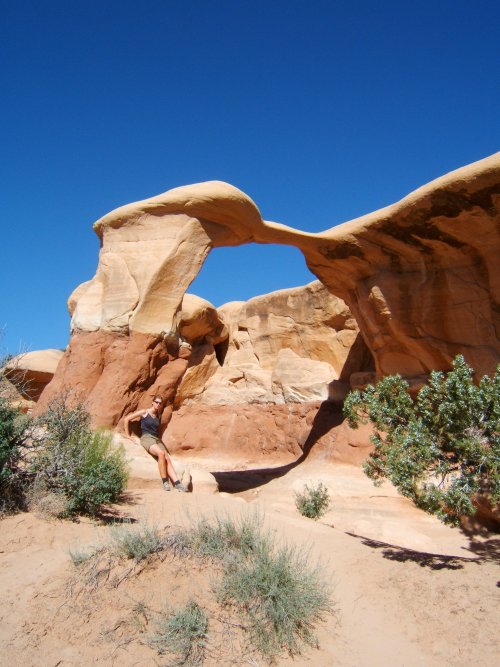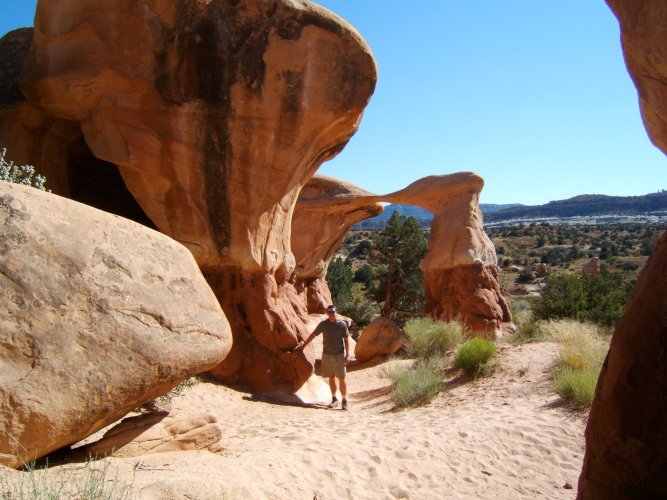 This lizard seems too fat for the desert.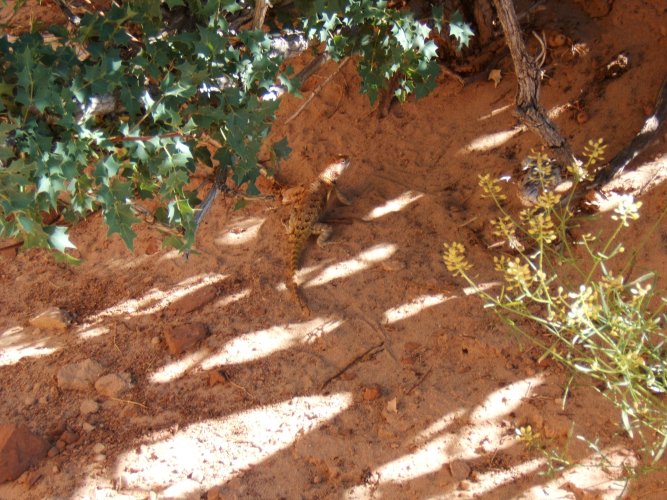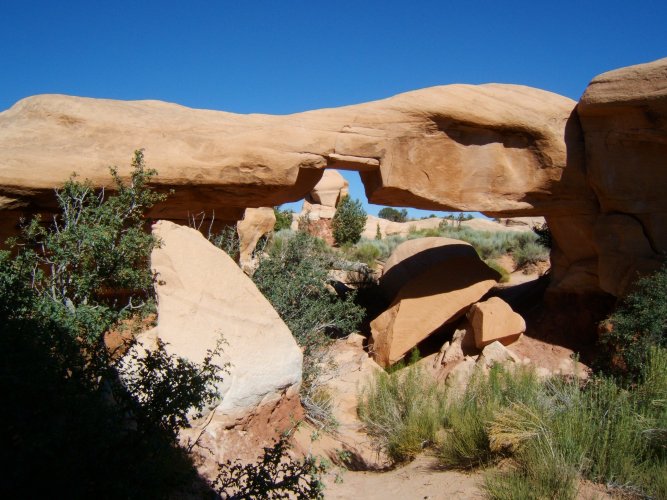 Once a rabbit. A good demonstration of the harshness here.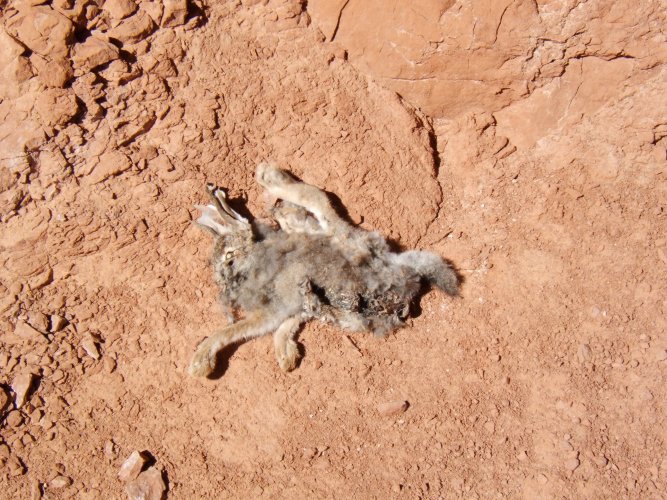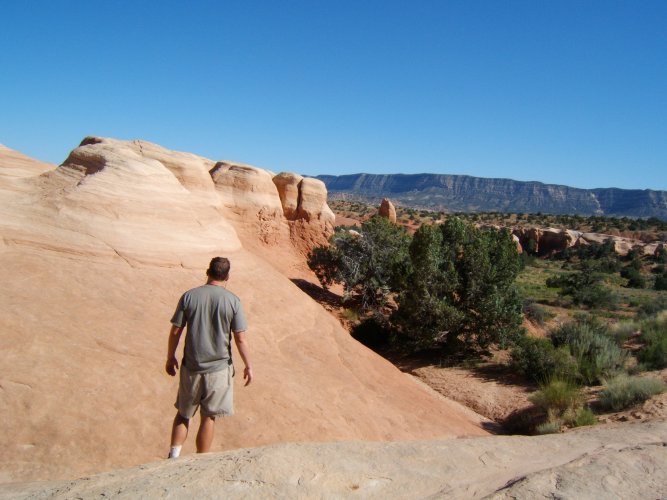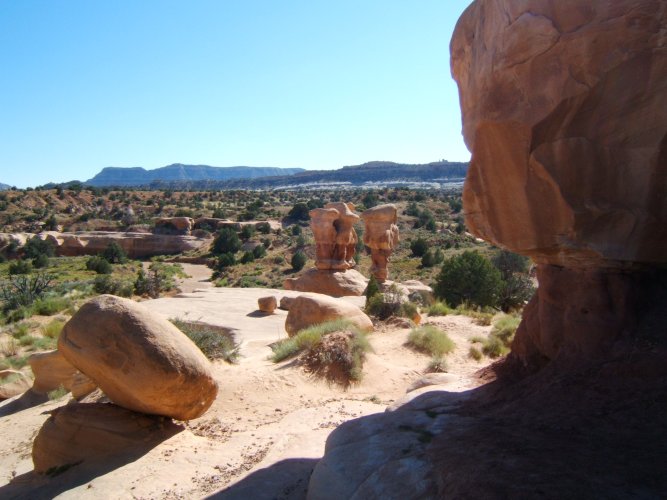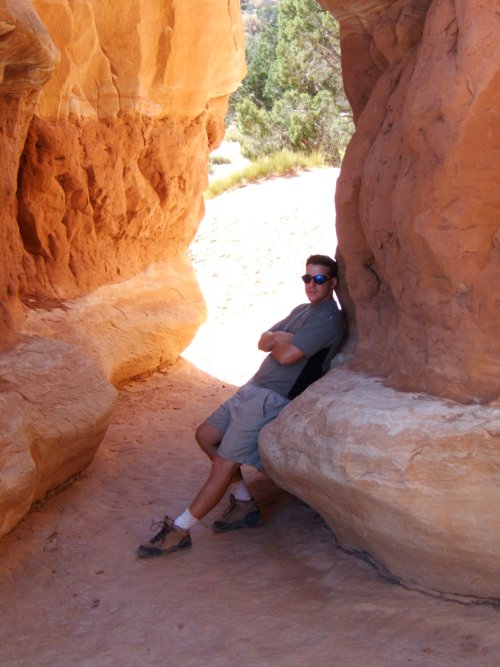 This is possibly my favorite from-highway photograph spot. From here you can see over the Calf Creek area. This is one of the only dark spots left on Earth... those a literally petrified sand dunes. Amazing.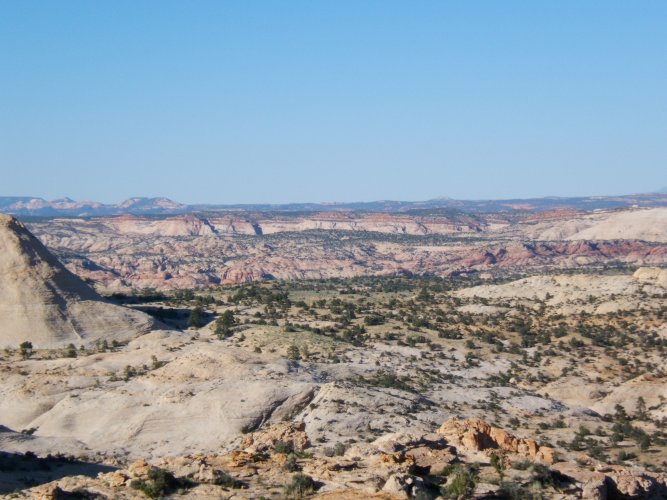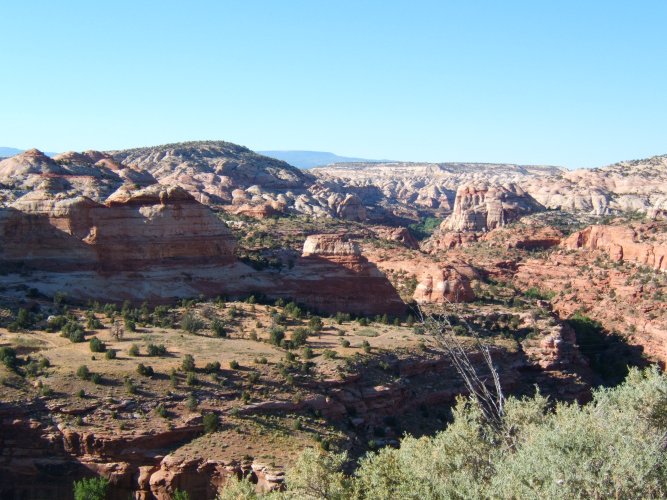 Again, we decided to camp at Calf Creek. Here Danny prepares what would become a pretty good meal. Car camping at its best.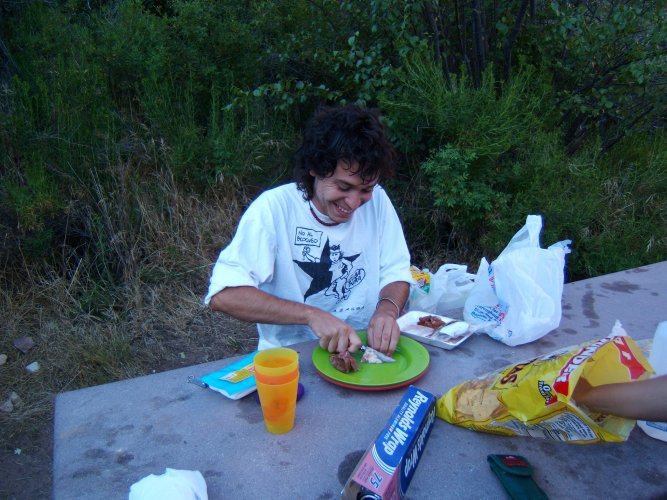 On up to the falls you can see many petroglyphs and winter food storage areas high up in the cliffs.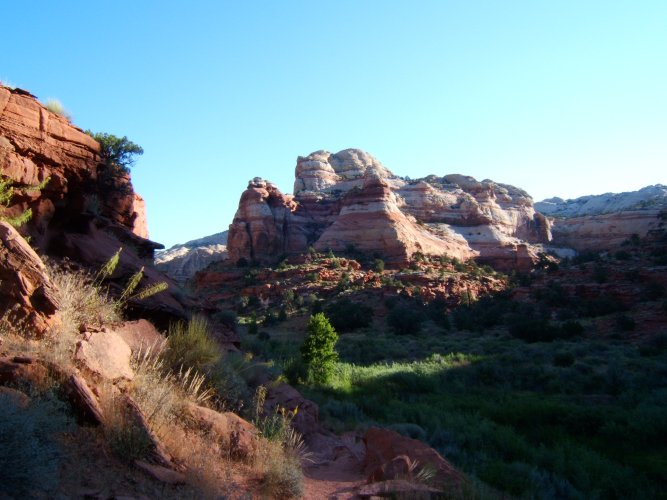 That water is COLD!!! I already experienced it, but I decided to keep quiet and let Danny figure it out for himself.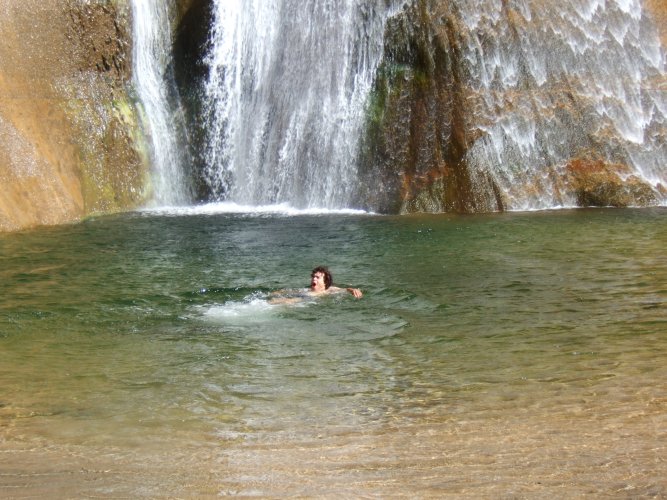 Haha!!!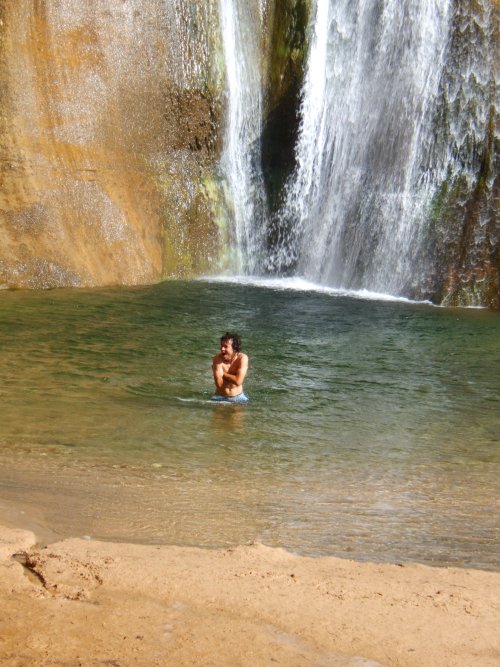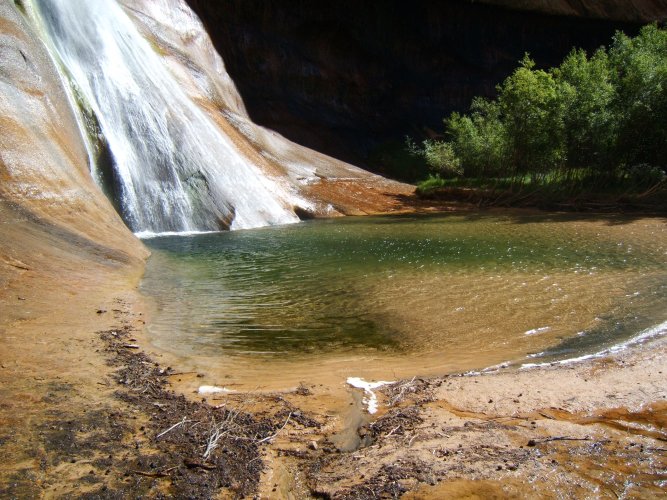 We next stopped in Capitol Reef, although we decided to not do much hiking (still a bit worn out). The landscape there is particularly hot and dry I think.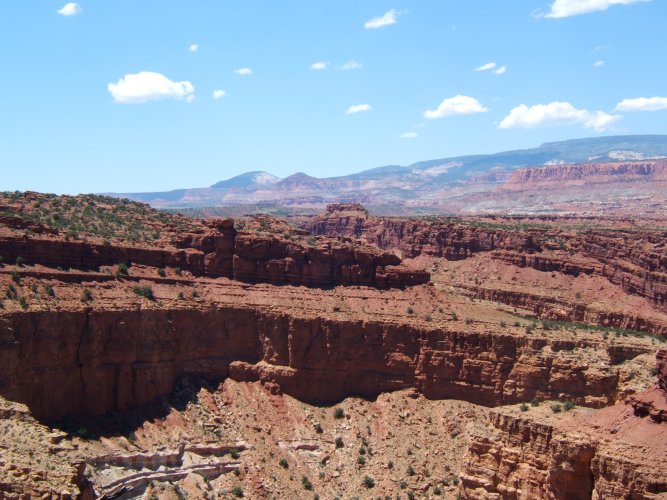 These are petroglyphs from the Fremont people. I believe this culture vanished mysteriously. For some reason I am thinking of the Anasazi tribe - they might be related (or the same?) Anyway, they both mysteriously disappeared a few hundred years before Columbus reached the New World. There must be an interesting story there.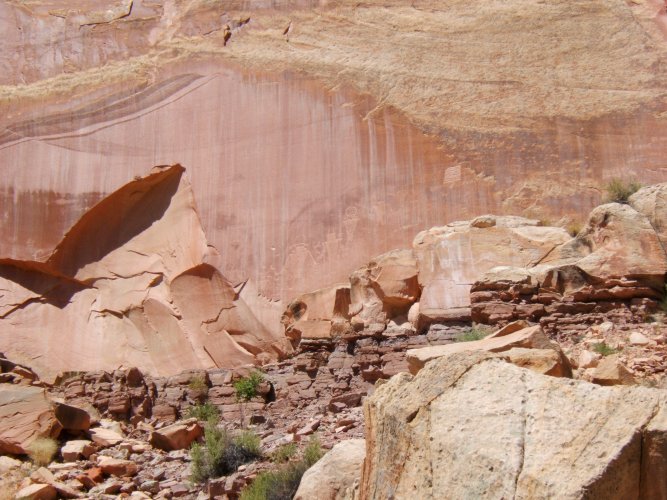 Here is the original Mormon town of Fruita (so named because they had fruit orchards). This is right in the middle of the park.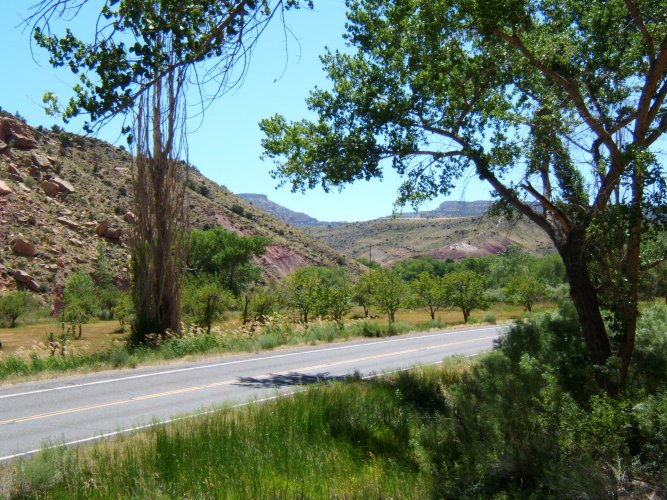 Juxtaposition of moonscape and life.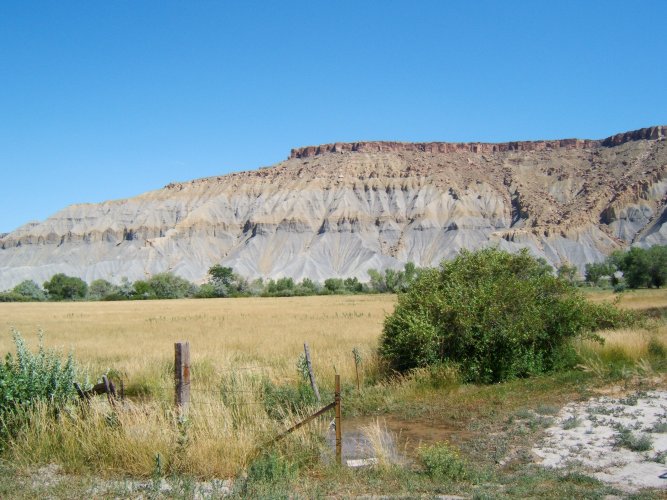 On we pressed into Moab and Arches National Park. The weather was more humid at that time (like 1% humidity rather than 0%... haha). We were stupid and thought that we could get away with sleeping without tents. That was one long continuous night of biting mosquitos and a strange terrible breed of buzzing flies. Nobody slept for 5 minutes.
For some reason we ended up being near Delicate Arch around sunset. That's the best time to see it, so up we marched. It was like a pilgrimage of worshippers had descended upon the place, because everybody was waiting on the rim of the bowl for that precious sunset shot. It's easy to understand why - the colors are really unbeatable.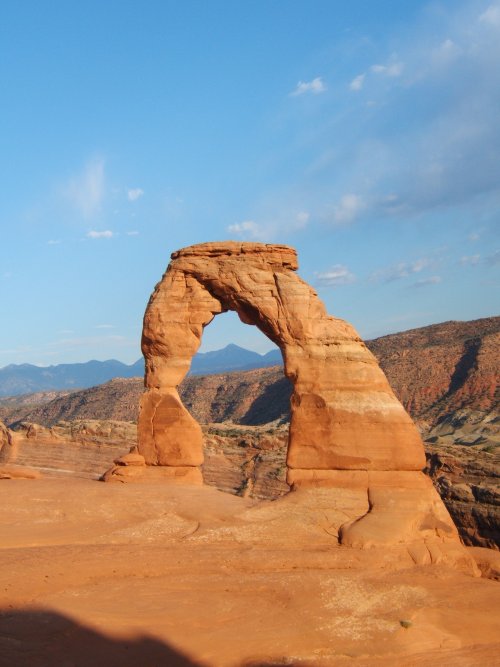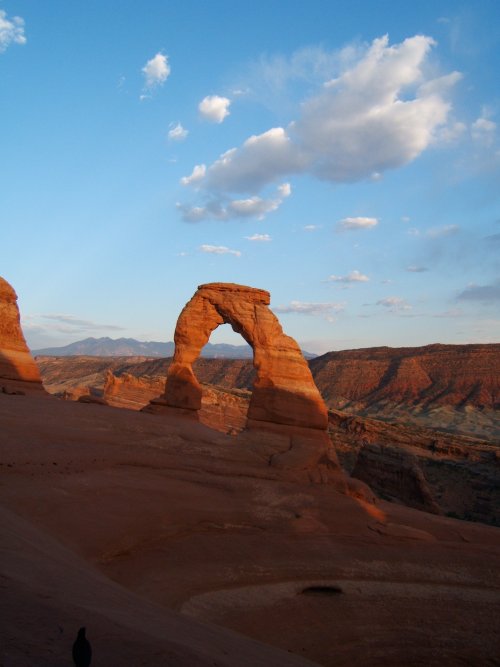 The next day we embarked on the usual hike around Devil's Garden (yes, there are about 100 things named Devil's Garden in the West). Here is Landscape Arch, the longest existing arch.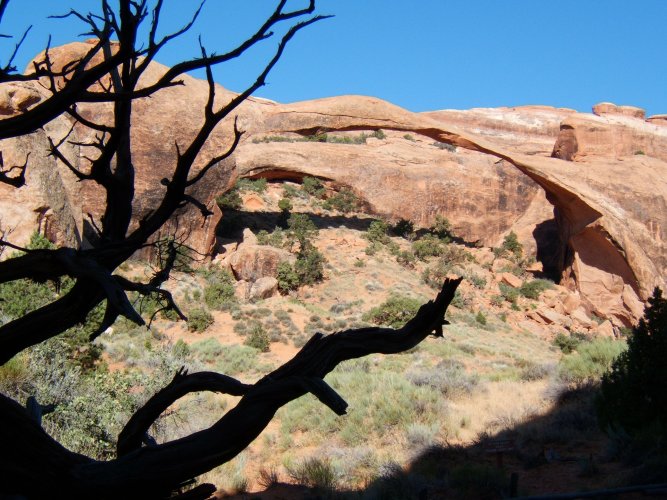 We hiked up to the nearby Through Arch, which is where I met my first ignorant treatment of this timeless beauty. Some complete ASSHOLES had scrawled on the arch the stupid fact that they were from Berlin. I was extremely angered. Here's my thought: "nobody gives a SHIT where you are from, you ignorant fool. These natural wonders took 250 million years to form. Keep your graffiti in your cities". Then I considered how many bones I would break if I found some idiot doing that. Well, I had my wish only 1 hour later...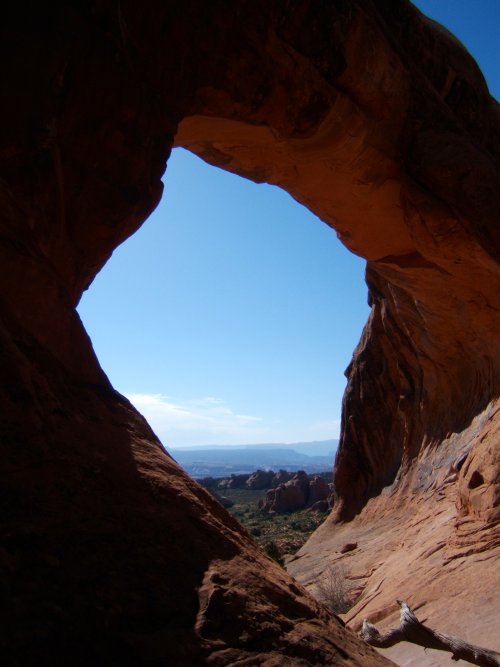 But first, here is a panorama view of Dark Arch, probably not recognizable since it just looks like a shadow in this picture.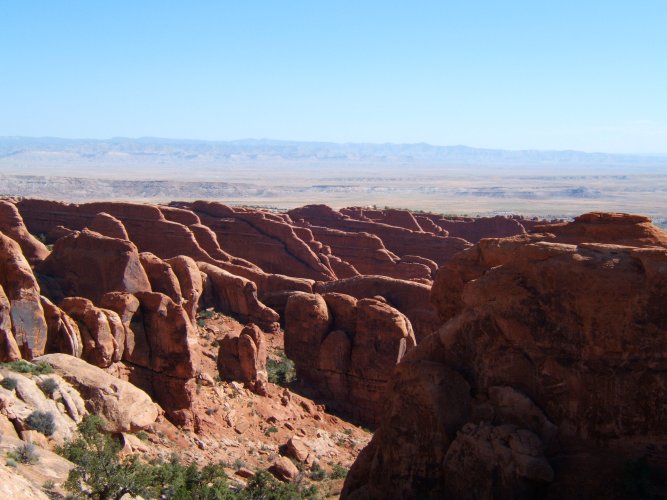 Now comes the worst part of my trip. I marched around the corner of a fin, hoping to catch a view of arches in the back. To my HORROR there were about 30 teenagers jumping and playing ON TOP OF THE ARCH. I lost it completely. The ignorance of these people makes me want to puke. I yelled at them like they've never been yelled at before. I painted a tapestry of language unknown until now to humanity. I thought that the arteries were going to burst out of my neck.
When I was done, I only received the smart-assed answer "we don't have to do what you say". I was about 1/4 mile away at that point, so I think that they felt safe. I broke into a sprint. They certainly got off of that arch THEN!!! It's a good thing, because I was seriously close to hurting people very badly. I don't know why, but that made me more angry than I have been in a while.
It turns out that those ignorant morons were part of a tour group called West Coast Connection. If you are a parent then DO NOT trust your kids to those idiots. The "counselors" have no regard for safety (it was a dangerous situation), and definitely no regard for conservation. Needless to say, that little confrontation pretty much ruined the rest of the hike for me. Astrid reported them to the rangers, but I doubt that anything happened (they took off fast).
Here is a large pinnacle beyond those arches called Dark Angel. I don't have pictures of the last arches because the whole situation was completely ruined (by the way, there was also graffiti on these arches as well... ahhhh).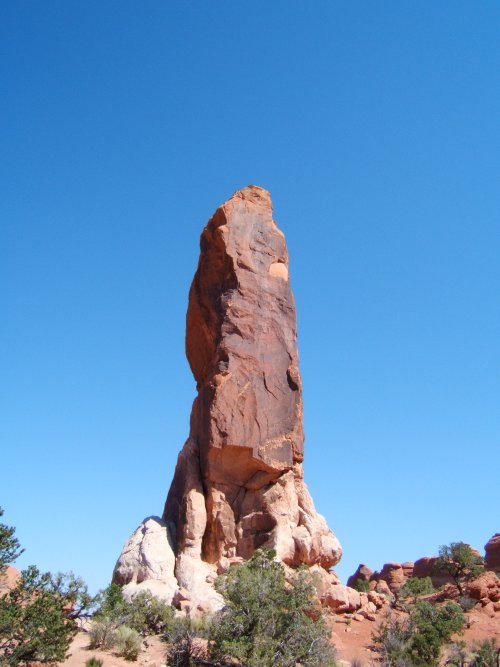 We decided to take a midday rest at the famous Moab Brewery. Everybody always raves about the food and beer there. I usually just camp and ignore Moab altogether, but it was hot, so we gave it a shot. It was decent... honestly the brewery didn't make much of an impression on me.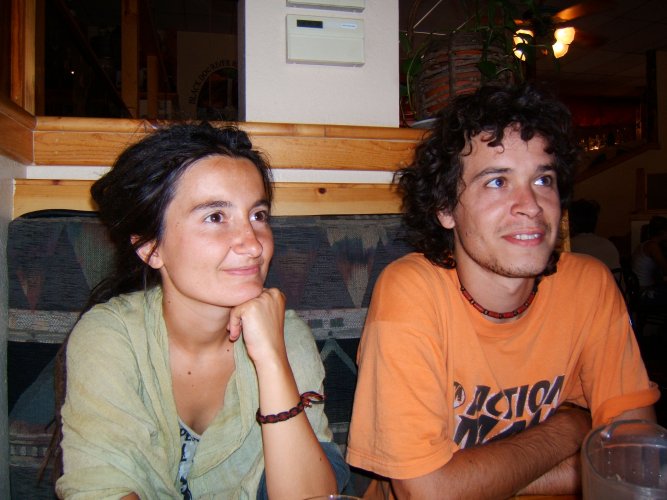 We had arranged for later in the day a hike into the so-called Fiery Furnace. This hike requires a guide, but it was definitely WORTH IT. Our guide was a geologist, and so she had a nice amount of scientific facts about the formation of the region. Definitely worth it. By the way, the Fiery Furnace is actually 10 degrees cooler inside than the rest of the park - a welcome rest from the sun!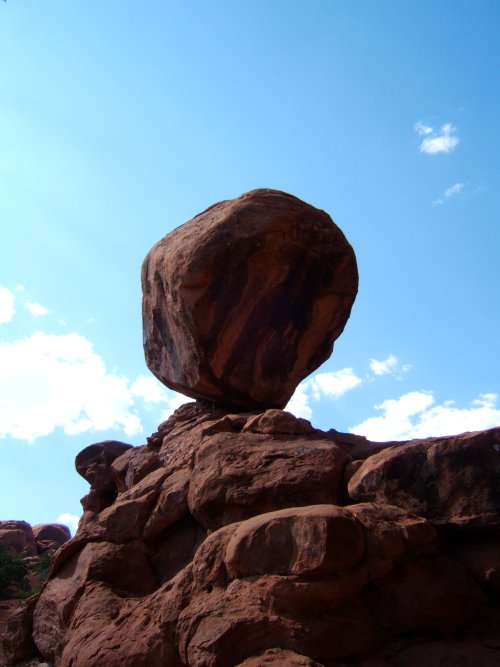 This tree is over 800 years old! Everything in the desert slowly changes and is very old - that's especially why it is critical to not disturb it!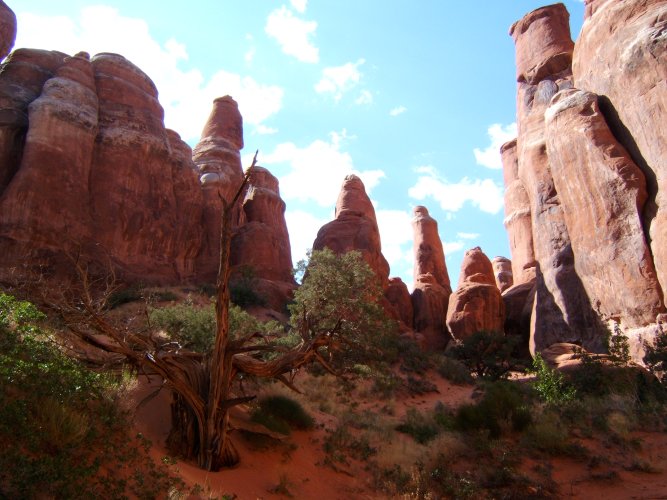 This is called Skull Arch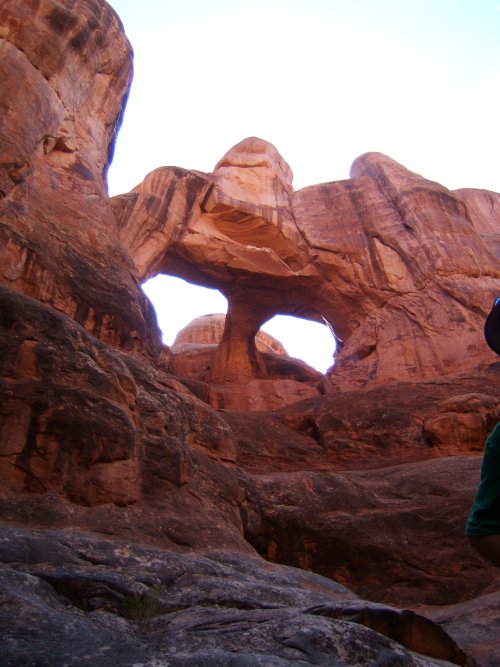 The guide pointed out the interesting lairs created by pack rats up in the cracks of the rocks. It turns out that these lairs are extremely old... like 10,000 years (or older). In fact, scientists have managed to use seeds and debris in these nests to determine that the climate has changed - apparently this region used to support species that require a much more humid environment. Interesting.
Here is a dinosaur footprint towards the old uranium mine up Potash Road. You can literally walk right up to it.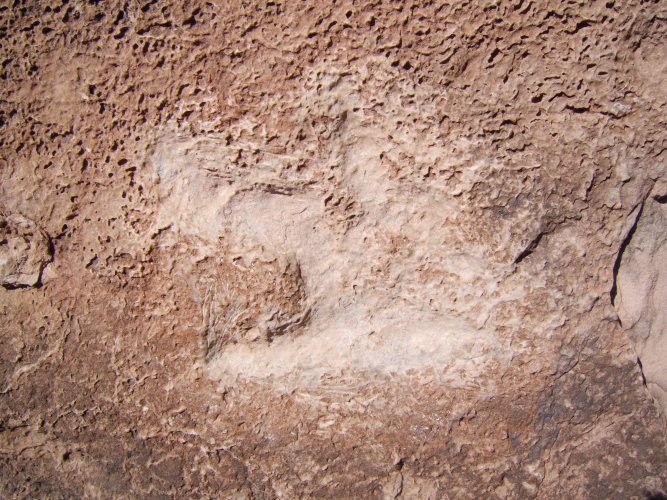 Go to Rocky Mountain National Park, Colorado
This page has been visited times since August 10, 2005